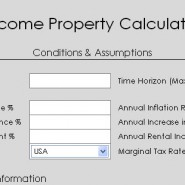 Florida Investment Real Estate (FIRE) has added a property investment calculator to its website to help its customers make better informed investment decisions. The calculator can also be used to check how your investment property is doing on the market.
The property investment calculator allows you to enter a host of information about your property and it will give you a strong understanding of how your property is performing. You can also click the tabs across the top for a Mortgage Table or your property report.
After entering the required information, the property investment calculator will generate potential financial outcomes regarding your property.
Some terms you may need to know:
Gross Potential Income – This is the approximate income your property will generate without making any deductions for vacancies or loss of credit.
Gross Operating Income – This figure is potential income after possible vacancies or the tenant not paying the rent.
Net Operating Income – This takes in to account all operating expenses, such as management fees, cleaning services, repairs etc., but prior to interest, taxes, depreciation and amortization.  It is an important number used to calculate a primary return ratio called the Capitalization Rate (or CAP Rate).
Net Present Value – NPV is used to analyze the potential profitability of an investment project.  It is a calculation based on the present value of cash outlays to present value of expected cash inflows.
Return on Equity – This is the extra amount that you make on your initial cash investment.
Capitalization Rate – A key ratio in determining real estate value.  It is calculated by dividing Net Operating by the purchase price.
Gross Rental Multiplier – While not particularly accurate, GRM can be a terrific and quick tool to determine if further analysis is warranted.
Mortgage Amortization Tables.  The calculator provides a graph and detailed chart of principal and interest payments over the life of a loan.
Search Terms
property investment calculator
Florida property investment