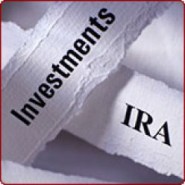 An Interview with
Eric Odum – Florida Investment Real Estate
(Part 1 of 2)
Eric: Hi, my name is Eric Odum. I'm a Principal Broker for Florida Investment Real Estate in Tampa, Florida and today were gonna talk with Scott Maurer from ADVANTA IRA.  Scott, would you tell us something about your firm and what you do?
Scott:  ADVANTA IRA is a very unique investment firm in the Tampa bay area. We allow individuals to take a portion of their retirement funds and rather than invest them in more conventional stock funds, and mutual funds, individuals, they can actually take some of their retirement funds whether, it's an IRA or an old 401(k)…. some of the type of employers' plan…. and invest in assets that were not usually available to them more in more conventional brokerage type IRA accounts.
Eric: Exactly. So, Real Estate? We are a real estate firm, so this has been a real interest to us. We can actually advise our clients to invest in and own fee simple Real estate in an IRA.
Scott: That's correct.  The IRS's regulations allow for that type of investment within an IRA.  It's just that major custodians like Charles Schwab,  Fidelity…companies like that aren't interested in offering this as an option for their clients. It is not a product that they sell, but your IRA can certainly hold a lot different…..(interrupted)
Eric: I'm sorry to interrupt you. You said "product." You mean stocks and bonds?
Scott: Correct!
Eric: Ok. So, stocks and bonds…(but IRS rules) this will enable you to own a piece of real estate.  You can plan to buy a home, an apartment and hold it inside of your IRA and lease it out.
Scott: Exactly, your IRA is actually the "investor" that is the owner on that particular piece of property, whether it's a single family home, a condo, a piece of raw land… any type of real estate as long as you're holding it for investment purposes can be held within an IRA and have a benefits of that investment coming back onto your IRA account.
Eric: Now, it doesn't have to be only an IRA, Correct? You could hold in a 401(k) is that correct?
Scott: Any type of "IRA," whether it's a Traditional, Tax deferred IRA, Tax Free, Roth IRA… if you have any old employer's plan… whether its an old 401K, Old 413B… any type of those employer plans can be rolled over into a self directed IRA and then used to invest in these types of assets.
Eric: Gotcha.  Why haven't we seen much of this before?    It seems like a big mystery.
Scott: It is that reason 95% or more….greater actually…. of our retirement funds in this country are invested into more conventional stocks, bond fees etc., because those major firms like Charles Schwab Fidelity don't offer the option to their clients. A lot of people don't take the time to investigate other options they might have.  So, we are seeing it as a growing trend. There are more individuals looking to use their funds to invest to Real Estate, Private notes and a lot of different things a lot of people don't know they can place in an IRA.  The reason why it is not more used is because it's not simply available to them through their current custodian, because those custodians made a decision they don't want to hold into those types of assets.  That is what our firm is specialized in doing (holding alternative investments in an IRA).
Eric:  Gotcha…. So, the advantage of this is that with real estate, it works particularly well with income properties, as you're collecting residue off the rent and income then those revenue streams are tax deferred.
Scott: That's correct. When investing in real estate through an IRA,  you have certain ability to realize revenues now from net cash flow.  The rent is coming back into the IRA. Certainly there is long-term appreciation, as well, on the property, that is going to come back in tax-deferred or tax-free in a Roth IRA…. back into the account.
Eric: Terrific!  Well, Scott, I appreciate you giving us a little update on this. I want to tell people to stick around, because we will do another sector right now on how it actually works.  Now that we know we can hold real estate inside an IRA, how does the operations of this work? Now stick with us, we'll be right back.
Call us at 813.514.1070 for more information!
or listen to PART 2 of 2 Investing in Real Estate using an IRA.