Tampa Bay suffered proportionately more than the rest of the country during the  recession of 2008. In fact, for Tampa Bay, job losses started before it occurred in the rest of the country.
The good news is that  the recovery in the Tampa Bay real estate market has been at a more rapid pace than the USA and it it forecast to remain higher
Comparison of Tampa Bay Non-Farm Employment with that of the USA – Historical and Forecast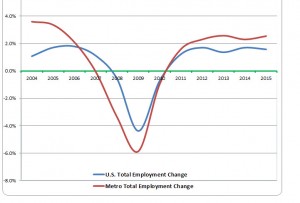 Analysis: Steven Silverman – US Bureau Of Labor statistics and Job Growth Analysis
The news gets better
Amazon just announced that it will locate a new distribution facility in Ruskin (Hillsborough County).  The new facility will have 1,000 permanent employees and as many as 1,000 more seasonal ones.   This will have a ripple effect thought the economy and spur additional growth. New businesses are expected to follow Amazon's lead in moving to Ruskin, Apollo Beach and Sun City Center. Additional facilities are planned in Lakeland. Commercial Property for sale will benefit from this employment growth.